The Perfect Holiday Gift – a Llama!
StillPointe's rescue llamas are in need of loving "parents" to sponsor their monthly feed, shelter and veterinary care costs. StillPointe's llamas are available for sponsorship through our Adopt-A-Llama project. By participating in the Adopt-A-Llama project, you help provide the necessary support to care for a rescued farm animal and defend all our llamas against abuse and neglect.
Adopting "Parents" make a year-long commitment to a rescued llama and make one simple annual payment of $50, $100 or $200. In return, you will receive an adoption certificate with a color photograph of your adopted friend, and the story of your llama. You can also visit your adopted llama at StillPointe's sanctuary in Seabeck, WA.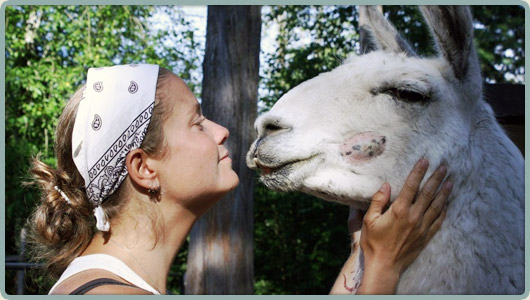 Through our Adopt-A-Llama project, you can fill a loved one's heart with joy, spread the message of compassion for all living creatures, and help our llamas all at the same time! A gift sponsorship not only provides food and shelter for a rescued llama, it creates a lasting bond between the adopter and the animal.
Gift adoptions are perfect for birthdays, holidays, weddings or any special occasion. Your gift recipient will receive the adoption package listed above.
Please consider adopting a llama for yourself or someone special this holiday season.